He Caught Like Three Feet of Air That Time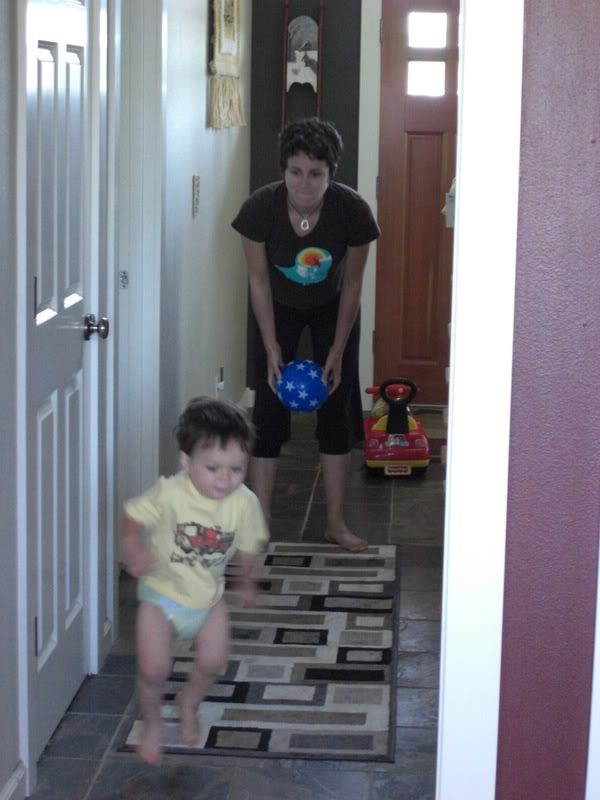 Sorry for the lack of posting and food-related photos....Silas and I are still in Portland (well, actually 40 minutes outside of Portland in between the towns of Scappoose and St. Helens, OR for anyone familiar with the area). I've been cooking up a storm, but in the heat of the moment I've been very, very bad about taking my food porn fotos. But we've been making great stuff, rest assured. And visiting
Farmer's Markets
. I want to go like twice a week here, they are soooo awesome! Greens, strawberries, fresh herbs, breads, mushrooms...so much good stuff. Oh, and spam me with your best recipes that use Shiitake mushrooms. I bought some fresh ones, and I don't think I've ever cooked with them before! Weird, I know.
Today I made a Tofu Cutlet Parmesan that was really awesome. I used the
Compassionate Cook
's recipe for the Tofu Cutlets (it's a recipe you can buy as part of the
BBQ, Burgers and Backyard Bites
packet), and they were great. Then I layered them with marinara and topped it all off with Vcon's Pine Nut Cream Sauce, except that I substituted cashews for the pine nuts since my mom didn't have any. It was great! I'm super happy we have leftovers. You could totally cheat if you were in a hurry and use a vegan Chick'n patty instead of making your own cutlets.
Did I mention that I bought a copy of
Eat, Drink and Be Vegan
by
Dreena Burton
? I did! So please, everyone out there that uses it, spam me with the awesome recipes to try. There are so many, I need some recommendations to focus my energy!
Yesterday morning I made the
Tempeh Hashbrown Casserole
for breakfast. YUM! I cheated and microwaved the potatoes instead of baking them, which cut down on the prep time by an hour so I don't really feel bad. I used a mix of red potatoes and a big baker russet instead of the yukon golds called for, and I thought it was great. Oh yeah, and spanish onion filled in for green onion. Anyway, it was hearty and delicious, and if my recommendation doesn't carry enough weight let me just say that my psychotically carnivorous father ate it without complaint. Yeah, seriously! I will say that I felt like it needed something, like a tofu scramble or something, pared with it. Today I had leftovers of the has with sliced avocado on top, and this helped ameliorate the "missing" feeling. But what can't a ripe avocado fix?
I also made the
lemon pesto
from ED&BV and used it for a
homemade pizza
last night. It was great. My mom does some awesome stuff with pizza crust, very nicely cooked. It was also topped with rehydrated sun-dried tomatoes and some browned Morningstar Chick'n strips and some fresh minced garlic. YUM.
Chad and I used to live a few blocks from this hole-in-the-wall Thai restaurant on Burnside in Portland. He used to order so much take out from them that they
recognized his voice
. Yeah, it was like that. Anyway, they make THE BEST Massaman curry in the entire universe, and we are always always disappointed when we order it from anywhere else. I've always wanted to try to make it myself to see if I could replicate it, but do you know how hard it is to find massaman curry paste?!? Damn near impossible. But I found some! At this tiny little grocery/cafe in St. John's in Portland called
Proper Eats
. (Which, by the way, has AWESOME food. Go there and order the special, whatever it is.) So I made my mom and I (and Silas) some
homemade Massaman curry
the other night. It was really good! But it wasn't THE curry. It was missing some pungency...extra lemongrass? Galangal? I'm going to have to experiment, but I'm glad that I have the curry paste to get me started, anyway. Long live massaman.
This past week I also had the distinct pleasure of testing a recipe for Colleen Patrick-Goudreau's new cookbook. It was a
peanut sauce pasta dish with green beans
and it was awesome! I don't think I've seen Silas clean his plate so fast and ask for more in a long, long time. That kid was a BIG fan, especially of the green beans. I can't wait until it's published so everyone can make it! We had it with oven-roasted kale, which my mom freaked out over.
Oh, and last weekend I made a batch of VCTOTW
Peanut Butter Heavencakes
: chocolate cupcakes filled with peanut butter frosting, topped with chocolate ganache. Holy flurking snit. They were soooooo good, and my dad was obsessed with them! Go vegan food winning over the toughest critics.
Speaking of which, my mom is very open minded, but I am still so happy that I think I've convinced her to start using unsweetened almond milk instead of cow's and soymilk creamer instead of Coffeemate non-dairy creamer!!!!!!!!!!!! YAYAYAYAYAYAY!!!!!!!!!! She's had breast cancer twice, and I'm just so glad to get her to cut back on dairy, especially after what I've been reading about
IGF-I
(or watch a video about it
here
) and it's effects on cancerous cells. And coffeemate is LOADED with chemicals and hydrogenated oils, so, yay!!! Again, yayayayay!
I'm also excited, because my dad, the aforementioned food-wimp, was telling us that he was talking to his co-workers about how he'd been trying all this vegetarian food lately, and it was all pretty good. *sniff* *tear* Who was it that said we just have to win them over with delicious food?! So, so true.
News on the Move
Chad will start driving from Detroit on Tuesday and should make it here by Friday or so. We'll be in Seattle the following Wednesday (6/4) to meet our ABF truck and start moving in. Yay!!!!!